If the campground you are visiting doesn't count with a dedicated network infrastructure then most probably you will have very slow or no internet connection at all.
In our database, some campgrounds have their antennas that give a private dedicated wifi signal for each site independently which mean you get dedicated internet access but not with the most common 'shared internet' campgrounds which give other users connected unlimited access to downloads and streaming making other clients in the campground get low internet speeds or connection failures. The ONLY way to solve this problem is by making your wifi signal stronger so it can reach the antennas above. Here you will learn about different devices that help you get internet no matter where you are. If you are like me then you need 24/7 access to the internet because sometimes I just need that kind of confidence and reliability. It can be when I'm am working from my motor home or to contact relatives I need this service no matter what. But is it a good idea for everyone? There are a hundred reasons to not look for a campground with Internet Access and this can be because you want total disconnection from your everyday life or to teach your kids the value of living without technology. Which I know is hard for the Millenials.
Not trying to bash those that want good wifi or anyone for that matter, but you are missing the point of going camping. It's supposed to be a get-away from all the daily routines. You are supposed to be decompressing. Go hiking or on a nature walk, kayaking, bike riding, read a book without distractions and if you have kids, this is the time to make awesome memories or start family traditions well except for those who have to do work or school while they're away. We still do all of the camping things, but every morning and every night, I check on my business and set up dev tasks, making sure that everything keeps running. Also, some folks don't go "camping", they live and work in their RV full time. Many people do. We don't use the internet just for playing games or Facebook. No offense, but there are too many RV "resorts" and parks that think as you do, that internet accessibility is some kind of luxury that people can do without. With the high prices parks are charging, solid high-speed internet should be provided. At lower-priced parks, they should make it available at an additional cost just to keep things fair and reliable.
On a side note, If you want wifi go to a resort "campground". Stay away from state, federal, and county campgrounds. Those places are for quiet, no telephone, no television, etc. And if you must get wired up please keep volume low. People doing their own thing also means not forcing it upon others.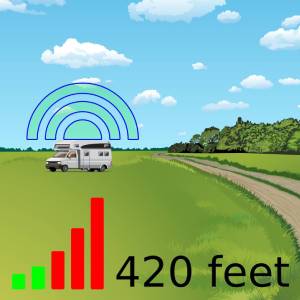 Case study
Your surroundings will affect the signal strengh
If you have mountains nearby or anything that the signal can't go through then your signal will becomeweaker, to overcome this we need to look for antennas with the most GAIN in DB possible. 12 db+ gain recommended
Difference between Directional and Omni Directional antennas?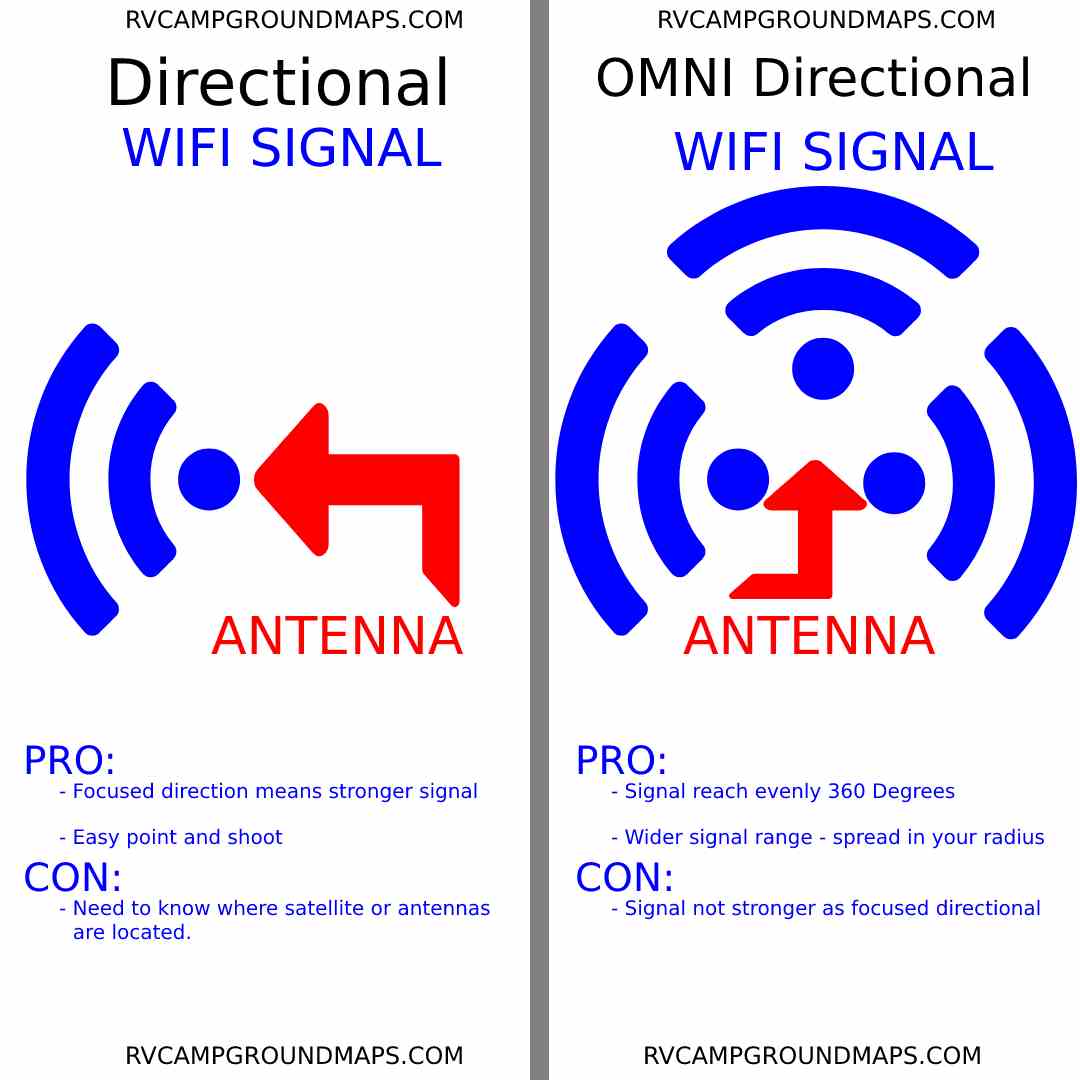 The difference between directional and omni directional antennas are the way they reach the external signal. The directional reach is a focused type one way reach and the Omni directional is a type of reach which spread signal in 360 way as shown in image.
The 10 Best Wifi Solutions for camping. (Work In progress)
The Wifi Booster - Best for extending signal horizontally in open space.

The Wifi booster is a device not suited for most RV Campers looking for a high quality reliable wifi connection, Why? Because the wifi booster is just mainstream name for a wifi repeater which means that if you have poor or no connection avaialble at all then you will repeat the same signal a much of meters further but not improve your connection. If this is ok for you and you just need to extend your internet connection over a few feet away then i sugges this great wifi booster or signal extender for you.

WiFi Extender,WAVLINK 1200M High Power WiFi Range Extender with Router Function,WiFi Booster 2.4G+5GHz WPS WiFi Repeater with 4 External Antennas,Wireless Router with 2 Ethernet Port

| | |
| --- | --- |
| Device Name | WAVLINK 1200M |
| Campground Wifi Increase Test | ⭐️⭐️ |

This powerful and realiable wifi booster is capable of extending your current good or acceptable wifi strengh up to 420 feet away.

Yagi Antenna Directional

ventevinfra's 15 dBi directional Yagi antenna is designed for applications in the 900 MHz frequency, including, radio frequency identification (RFID) applications, cellular systems, global system for mobile (GSM) communications, code-division multiple access systems (CDMA) applications, multipoint applications and wireless video links. It features a high gain and can be mounted in a horizontal or vertical polarization. Includes heavy-duty steel mounting brackets and an N Female connector.

| | |
| --- | --- |
| Device Name | Ventev 15dbi |
| Campground Wifi Increase Test | ⭐️⭐️⭐️ |

We Connect Destination RV

The We Connect Destination RV is a very powerful rv signal booster, stationary or on the road this signal booster just works out of the box. The 24 feet telescoping pole included helps with extending the range of the wifi signal kilometers away, also the antenna is designed to target cellphone towers. We use a WeBoost Connect RV 65. We are on our third year using it in four states and it has never let us down. As long as there has been at least some cellular signal, we have been able to use our cellphone hot spots for internet access.

| | |
| --- | --- |
| Device Name | Destination RV |
| Campground Wifi Increase Test | ⭐️⭐️⭐️⭐️ |

RVAnt™ Directional antenna

The RVAnt™ by WirEng® is an industrial/military strength RV/vehicle/mobile/railway/truck/train/boat DEP™ (Data-Enhancing Polarization™) omni antenna suitable for a vast variety of applications. The RVAnt™ is made made with thick fiberglass and marine-grade stainless steel to withstand even the harshest of environments. The RVAnt™ is 100% compatible with all 2G, 3G and 4G bands worldwide providing maximum propagation on all frequencies between 700MHz and 3800MHz. The RVAnt™ can be used with a variety of radio equipment systems, including single-connector modems, hotspots, and routers, and with boosters, amplifiers, and repeaters (as the external antenna) . The RVAnt™ is fully enclosed and all-weather resistant, and requires pole mounting, where the pole can be either vertical or horizontal (professional installation recommended).

| | |
| --- | --- |
| Device Name | WirEng® |
| Campground Wifi Increase Test | ⭐️⭐️⭐️⭐️⭐️ |

Fusion2Go 3.0 RV

The Fusion2Go 3.0 RV is a newer version of the 2.0 RV that is sleek, organized, and self-contained at just 4 feet wide. The owner has to have a remote control for the device, which requires fingerprint recognition to be activated. The remote control can also be programmed with voice recognition software to make it more convenient. There are cameras mounted on all four sides of the RV that enable the person driving the RV to monitor what is happening outside without them having to go outside. Along with this is a GPS system installed in the back of the RV with an app for IPhone or Android that enables tracking by GPS coordinates if needed or sharing location information if desired. All of these features are controlled by a tablet mounted on the side of the vehicle that can be used by both driver and passenger with tactile touch screen interface. The owner can also connect to Wi-Fi signal wherever they go in order to access networks not available via satellite signal.

Fusion2Go 3.0 RV wifi booster is the next generation of the Fusion2Go line of products. It features a variety of proprietary technologies geared towards mobile RV travelers. The need for this product is clear with mobile homes, trailers, and even large recreational vehicles now often equipped with an external mobile internet connection. The Fusion2Go 3.0 RV wifi booster offers an easy way to boost your pre-existing WiFi signal, which is often weak inside your RV. Through the use of powerful proprietary technologies and a variety of antennae, the Fusion2Go 3.0 RV wifi booster can increase your bandwidth by as much as 10x and provides up to 50% more data than any other existing product on the market today.

| | |
| --- | --- |
| Device Name | Fusion2Go 3.0 RV |
| Campground Wifi Increase Test | ⭐️⭐️⭐️⭐️⭐️ |

Results

| Device Name | Signal Boost |
| --- | --- |
| | ✅✅✅✅✅ |
| We Connect Destination RV | ✅✅✅✅🟥 |
| Ventev's Yagi Antenna Directional | ✅✅✅✅🟥 |
| WAVLINK 1200M Signal Booster | ✅✅🟥🟥🟥 |
| | ✅✅✅✅✅ |