Welcome fisherman, you reached the right page if you are looking for the best rv campgrounds in Florida. Here are the 5 best premium rv campgrounds for fishing and the species you can find. Lets start by ranking tgem in Descending order from great to best. These RV Campgrounds are ranked by votes in our website and our facebook group, so the opinion of hundreds of users are being analyzed here. In this ranking we consider cleanliness, user experience, rv hookip accomodations, rv access. These RV Campgrounds are not ranked by price so you should call to check out the fees before arrival, also check Availability.
So now that we got that of the way lets talk about RV Campgrounds for fishing, one of my favorite hobbies. I can just spend hours waiting for a catch and if not then i really appreciate the time spent with my family and friends nex to my awesome Recreational Vehicle. But not always i have found great rv parks that offer full accomodations, i remember one time where i almost get stuck trying to poll out of a campground site because their access wasn't really set up correctly. So here are my top 5 Campgrounds for RV with beach or river access perfect for fishing! And i am talking about perfection, Premium RV sites that you should give it a try, from User experience to RV Access, these are the 5 best RV campgrounds for Fishing in Florida.
#5 - Presnell's Bayside Marina & RV Park
Enjoy more than 110 waterfront sites with 30amp and 50amp services, black water tanks, sewers, High speed WIFI, cable TV and more. Perfect for fishermen and families and just a few minutes from ST. Joseph Bay. Regarding marine wildlife you can find the best of Floridas wide range of fish species including dolphins, turtles, ray fishes and other crustaceans like Hermit cbras and horseshoe crabs. Other rentals include boats, pontoons and loading carts. Most of the comments we got highlighted these things that they loved about Presnell's Baysire Marina and RV Resort. Some great features are:
Breathtaking Sunsets
Big Rigs Accepted
Very Cpmpetitive price and value for campground and services
Easy Beachfront Boat Launch and Kayak
Bay depth is shallow, very nice for kids
Port Saint Joe, Black0s Island and Cape San Blas are just minutes away, with very easy access for RV.
Faxility renewed 2 years ago when Hurricane Michael went through.
Port St.Joe awarded with Florida's Grant For Development 2020
Wide and Large Heated and Unheated Pools
Clubhouse for meetings and parties, currently closed due to current health situation
3, 4 and 5 Star restaurant less than 30 minutes away
The Apalachicola City nearby with rich in native history.
Seafood market right next to Campground
Respectful tourist regarding noise, this campground has rules
Most beautiful Florida Sunstet
Great for Family, friends, Solo or Couple visits
Very friendly Staff, professionaly trained
Has Laundromat
Boat Rentals
#4 - Jolly Roger RV Resort
Only 60 minutes from Key West and 45 minutes from The John Pennecamp State Park Jolly Roger offers itself as one of the most premium RV campgrounds where you can actually do some Fishing, and not only that but boating, diving, and sailing! Not only that, other available activies include Dolplhin research center, aquariums, museums, turtle care center, Bird and Marine watch center, Sea Theather, Beach Golf, Beach Tennis, Driving Range, Country club, Kayaking, Paddle Club, Birding, Fishing, 1 and 2 mile hike, Picnic, Volleyball, Dog Parks, Hockey, Basketball, Little League Fields, Skate Parks, and more. Regading Fishing, they have teamed up with external services to offer you the Following: All Day Fishing from 9:30AM to 4:00PM for 70 USD per person. Offshare and Back Country fishing. Live Bait, Tackle Shop, Boat Rentals, Diving Shop, Night Fishing, Twin Engine Party boat, Electronic fish finding equipment and more! Jolly Roger has teamed up with at least 10 different companies that offer water sports services such as Fishing, Boating and Diving.
Other available amenities in Jolly Roger RV Campground include but not limited to:
Basketball
Boat Launch
Boating or Canoeing
Credit Cards Accepted
Fishing
Handicapped Access
Horseshoes
High Speed Wifi
Laundromat
Pavilion
Pet Friendly
Planned Activities
Recreation Hall
Clean Restrooms
Shuffleboard
Swimming Pool
Accomodated Double Slideouts
Electric 50 AMP
Full Hookup Sites
Other rental accomodations
Riverfront/Lakefront/Beachfront RV Sites
Waterfront Sites
#3 - Big Pine Key Fishing Lodge
Big Pine Key Resort is one of the best RV Campground resorts you can find not because their exceptionally well distributed campgrounds but for their extensive 10 acre landscape. They promise that you will enjoy everything that Florida's Keys have to offer. Available options include Beachfront sites and rustic campsites. Plus all the common amenities to keep you busy, entertained and loving it! Enjoy Beach Bon Fires, Block Parties, Dances, Game Nights, Sunset Happy Hours,Lobster Tournaments, Fishing Tournaments,Tropical Sport Fishing, Fun Arts & Crafts and Bingo. Also other features / amenities include but not limited to:
Waterfront Resort
2,000 Square Foot Camp Store
Fish Cleaning Station
Boat Ramp
Canal Docks
Heated Swimming Pool
Observation Deck
Recreation Room
Community Activities
Shuffleboard
Billards
Nature Trails
#2 - Orange Harbor - Island and River Fishing
Located right next to the Caloosahatchee River and Orange River, this RV Campground has grate access to one of the most valuable and most impressive views where you can watch and catch marine life right next to your RV. Species near these freshwater rivers include common snook, red and black drum, largemouth bass, tarpon, spotted seatrout, bullshark and crevalle jack, shrimp and others. Caloosahatchee and Orange River are perfect well mantained and naturally preserved rivers, untouched by big machinery, rich in marine nutriends and marine wildlife.
What's included for Anglers?
Orange Harbor's Waterfront sites for RV's include Piers, boat ramps, pavilion and your own fish cleaning station. Bring your own boat and navigate the Orange River or sit down on the site Independent piers and enjoy the sunset. With large sites available you can enjoy your family's own privacy. The sites are also equipped with personal and private fish cleaning stations and which help a lot not leaving a mess when doing catch and cook. What about boat launches and piers? Orange Harbor RV Campgrounds include these ammenities so you can easily and safely navigate the Orange River or Gulf of Mexico and observer the beautiful wildlife in these areas. Rent a boat is also available.
Other available amenities in Orange Harbor RV Campground include but not limited to:
Basketball
Boat Launch
Boating or Canoeing
Credit Cards Accepted
Fishing
Group Facilities
Handicapped Access
Horseshoes
High Speed Wifi
Laundromat
Pavilion
Pet Friendly
Planned Activities
Pool Tables
Recreation Hall
Clean Restrooms
RV Storage
Shuffleboard
Swimming Pool
Accomodated Double Slideouts
Electric 50 AMP
Full Hookup Sites
Other rental accomodations
Pull Thru Sites
Riverfront/Lakefront/Beachfront RV Sites
Waterfront Sites
#1 - Yacht Haven Park & Marina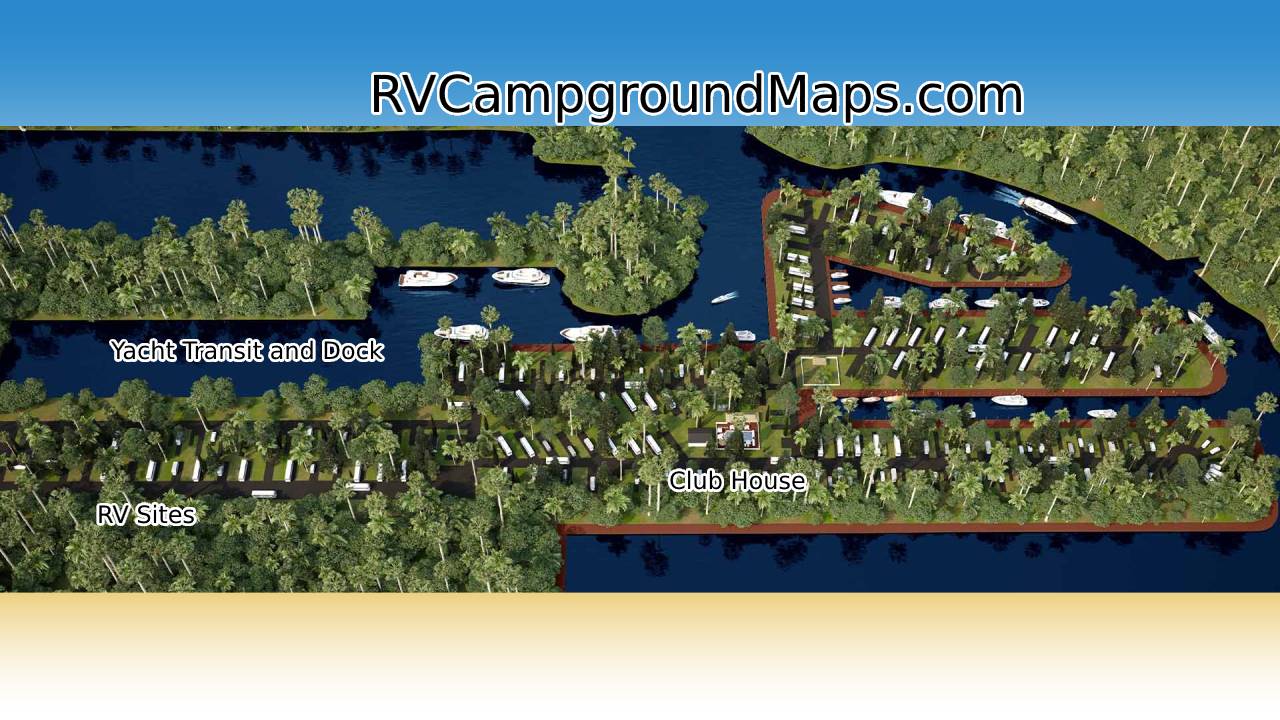 The Yacht Haven, ranked as the Number 1 Premium RV Motorcoach campground available in Florida, it's a 5 STAR Worldwide Class Resort. The most Exclusive Motorcoach and yachting destination in Florida. The owners have invested almost $90 Million USD to make this one of the most exclusive 5 start campground in East USA. With a trained staff, they are here to help you resolve any questions to make your stay as pleasant as possible. This 5 star campground fatures poolside cabins, rv side docking stations, boats and kayak rentals, own transportation and loading karts. All amenities are available throughtout the camp. 5 Star restaurant with the most finest culinary ideas, entertainment, art and cultural experience are all available.
Fishing:
Yacht Haven Park & Marina is located in Fort Lauderdale, which is home to one of the most exotic marine wildlife. Fight with sailfil or swordfish, or go soft with yellowtail snapper. The most proffesional anglers come visit Yacht Haven for their fishing entertainment.
Beaches:
Nearly white and soft sand in Fort Laudedale are right next to the campground. In a walking distance of 5 minutes or less you can reach the beautiful paradise shores or go north 10 minutes and find Palm Beach Costline.
Dining and Restaurants:
The 5 star international restaurant offers a wide variaity of menus from local seafood meals to international preparations, the Chef will leave a mark on you.
Credit Cards Accepted
Dump Station
Fishing
Internet/Wifi Available
Laundromat
Planned Activities
Recreation Hall
Restrooms
Shuffleboard
Swimming Pool
Accommodates Double Slideouts
Electric 30 amp
Electric 50 amp
Full Hookup Sites
Waterfront Sites